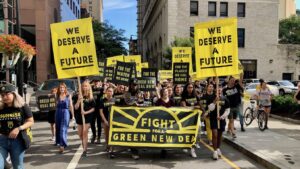 By GREGORY N. HEIRES
An environmental activist group has included the federal jobs guarantee as a key component of its national campaign to address the climate crisis.
The Sunrise Movement's campaign for a Green New Deal includes a call for investing $10 trillion to create 15 million jobs over 10 years.
In March, the Sunrise Movement launched its "Goods Jobs for All" Campaign, which the group says would lay the groundwork for organizing a post-pandemic society that puts millions of people to work stopping the climate crisis.
"In the richest country in the world, no one should go without a good job," said Varshini Prakash, executive director of the Sunrise Movement, said on March 4 during the call announcing the initiative.
"For years, our movement has been demanding a Green New Deal that fulfills Franklin Delano Roosevelt's promise and Coretta Scott King's dream through guaranteed good jobs and a better society," Prakash said. "This campaign will galvanize and grow our movement around this critical component of the Green New Deal as we recover from COVID-19 and the economic recession,"
Rep. Ayanna Pressley (D. Mass.) joined the group to announce the campaign. Earlier this year, Pressley introduced a resolution calling for a federal jobs guarantee. The National Jobs for All Network worked with PolicyLink on the resolution, which counts with the backing of about a dozen U.S. Congress members and dozens of grassroots organizations.
During the announcement, the Sunrise Movement unveiled its Good Jobs for All Pledge, which asks voters to send a letter to their representatives seeking their commitment to support legislation "to create millions of good union jobs addressing the crises of climate change, economic inequality, and systemic racism." The pledge is posted on the group's website at https://www.sunrisemovement.org/campaign/good-jobs-for-all/.
The Good Jobs for All Pledge calls for investing $10 trillion to create at least 15 million good jobs sustained over the next decade in clean energy, transportation, housing, the care economy, public services, and regenerative agriculture to guarantee full employment ultimately. It supports
Upholding Indigenous sovereignty and strong labor, equity, immigration, and environmental justice standards,
Establishing or enhancing public employment programs to directly put Americans to work in serving the public interest, including funding of a Civilian Climate Corps and a Public Health Jobs Corps,
Strengthening and protecting our workforce, unions, and workers' rights through Protecting the Right to Organize (PRO) Act,
Directing at least 50 percent of investment funds to communities on the frontlines of our economic, environmental, and public health crises, and
Moving every sector of the economy to 100% clean, renewable energy as fast as possible over the next decade.
The Sunrise Movement describes itself as a youth movement dedicated to stopping climate change and creating millions of good jobs in the process. It aims to build an army of young people to make climate change an urgent priority across the United States, end the corrupting influence of fossil fuel executives on our politics, and elect leaders who stand up for all people's health and well-being.
The group outlines its vision of a jobs guarantee in an article (https://www.sunrisemovement.org/theory-of-change/what-is-a-federal-jobs-guarantee/) on its website. It's a vision that mirrors what the National Jobs for All Network has embraced for years.